| | | |
| --- | --- | --- |
| Wyprodukowany przez Ectaco, Inc., światowego lidera w dziedzinie kieszonkowych słowników elektronicznych. | | |
| | |
| --- | --- |
| Wprowadź słowo lub zdanie w języku polskim lub angielskim: | |
| Spodobał się Ci nasz tłumacz? Weź go do kieszeni! | |
Free speech electronic translator - Translates anything you say.

ECTACO SpeechGuard TLX: Rugged World Travel Smartphone, Voice Translator & Language Assistant.

With the C-Pen 3.5 you can scan and load printed text to your computer with no strings attached.

Big value for small budget. Instant talking translation of almost any word.

A necessity for travel. Communication has never been this easy or fun!

Our best device for language learning and communication.
---

ECTACO Partner EP900 - Angielsko <-> Polski i Polsko <-> Angielski

to nowoczesne, kieszonkowe urządzenie łączące funkcje Language Teacher'a, tłumacza tekstów, mówiącego słownika oraz rozmówek audio. Doskonale nadaje sie do samodzielnej nauki jezyka angielskiego. To idealny elektroniczny nauczyciel dla zapracowanych!



Cena 1599 zł


Zobacz co potrafi!

Książka elektroniczna ECTACO jetBook - to Twoja super-biblioteka książek oraz muzyki. Dzięki możliwości przechowania tysięcy książek w pamięci tego niewielkiego nowoczesnego urządzenia (kupując ECTACO jetBook od razu otrzymujesz w prezencie ponad 100 książek), stanie się ono Twoją zaawansowaną oraz jednocześnie bardzo podręczną biblioteką do czytania. Co więcej – możesz dodawać do pamięci kolejne książki, pozyskiwane za pośrednictwem Internetu. ECTACO jetBook został wyposażony w doskonały 5-calowy ekran o wysokim kontraście z możliwością zmiany orientacji ekranu, dopasowywania wielkości liter oraz języka interfejsu.

Z jetBook mile i przyjemnie spędzisz czas w podróży lub na wakacjach.

Cena 649 zł


Chcesz wiedzieć, co jeszcze potrafi?!

---

ECTACO iTravl NTL-2PX - mówiące słownik elektroniczny i rozmówki, oraz przewodnik turystyczny ECTACO iTravl jest kolejnym przełomem w nauce języków obcych. Oprócz obszernego słownika mówiącego na ponad 1.115.000 słów i terminów specjalnych, urządzenie to posiada udźwiękowione rozmówki, które umożliwiają ćwiczenia z nimi, podobnie jak na kursach językowych, bez limitu czasu i ilości powtórzeń. Dodatkowym atutem tego urządzenia jest mówiący przewodnik po stolicach Świata oraz bardzo ciekawe gry lingwistyczne.

To urządzenie – to osobisty repetytor języka angielskiego w twojej kieszeni.

Cena 1399 zł


LingvoSoft 2007 Zestaw Angielsko <-> Polski dla Pocket PC LingvoSoft Zestaw 2007 Angielsko <-> Polski dla Pocket PC stanowi uniwersalne rozwiązanie językowe i tłumaczeniowe dla urządzeń z systemem operacyjnym Windows Mobile. Jest to całkiem zintegrowana kolekcja najbardziej popularnych oprogramowań LingvoSoft, która odpowiada wymaganiom niemal każdego użytkownika jeżyków obcych. Z szerokiego szeregu unikatowych funkcji tej potężnej aplikacji można korzystać podczas pracy, studiów lub podróży.
Zobacz co potrafi!

Cena 299 zł

---
Bestsellers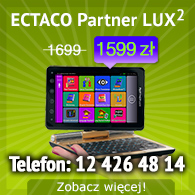 Bezpłatna dostawa na terenie całej Polski przy zakupie słownika na

Wiosenne ceny na translatory ĹCTACO tego nie trzeba tłumaczyć
Sprawdź!
Welcome to our
e-shops: , , , , , and !
Spróbuj bezpłatne słowniki on-line:


Zapraszamy do współpracy z ! Zacznij zarabiać pieniądze już od dziś!
Kupuj nasze polskie słowniki w Stanach Zjednoczonych

Umieść na swojej witrynie nasze słowniki i tłumacze!